Kidnapped boys 'brainwashed' to die as suicide bombers
Boys rescued from the Taliban in Pakistan are receiving psychiatric help

They are abducted from their homes and are being trained for suicide missions

Psychiatrist says they have been brainwashed; fixing that will take time

Army hopes the boys can one day return to their homes
August 4, 2009 -- Updated 0307 GMT (1107 HKT)
By Stan Grant
CNN
SWAT VALLEY, Pakistan (CNN) -- The boys shuffle into the room in a remote army base high in the mountains of Pakistan's Swat Valley. They are disheveled, disoriented.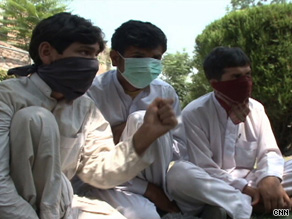 These boys say they were kidnapped by the Taliban and trained to be suicide bombers.
There are no smiles, their eyes stare at the floor. These are the lost souls of Pakistan's battle with the Taliban. (Read more on CNN).